Hallo ihr Lieben,
soeben ist eine neue Karte fertig geworden, diese ich euch natürlich gleich zeigen möchte.
Auch möchte ich mit dieser Karte das erste Mal bei verschiedenen Challenges teilnehmen…
Erst vor Kurzem habe ich ja einige neue Stanzen, Stempel und Papiere bekommen, nun konnte ich mich damit mal so richtig austoben und es kamen einige davon zum Einsatz.
Entschieden habe ich mich für die süsse Beanstalk Tilda mit ihrer Bohnenstange (das Motiv ist zwar schon ein wenig älter, aber ich wollte es unbedingt haben und habe erst vor Kurzem erworben) – Die Karte erinnert mich aktuell an den Film "Jack and the Giants" und das Märchen von der Zauberbohne!
Hey my dears,
I just finished a new card, I wanna show you of course immediately.
Also, I'd like to participate in different challenges for the first time…
Recently I got some new dies, stamps and design-papers, so I could have my fling. Well most of those materials I got in January.
I've decided myself fpr the cute Beanstalk Tilda with her Beanstalk. (Indeed the stamp is from an older collection, but I really wanted to have acquaired recently). The card remainds me of the movie "Jack and the Giants" and the tale of the magic bean!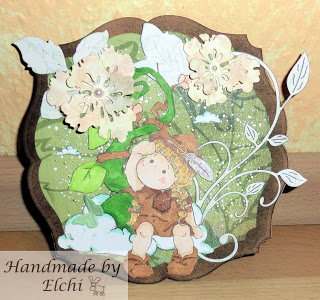 Details:
So wie findet ihr die Karte?
So how do you like the card?
Product list that I used:
Stamps:
Magnolia – Beanstalk Tilda (Princes & Princesses Collection 2012)
Magnolia – Beanstalk
Dies:
Go Kreate – Large Frames Frilly #10
Magnolia – Doohickey – Peonies
Magnolia – Doohickey – Rose Leaf
Cheery Lynn Designs – Fanciful Flourish Left
Ink:
Memento- Rich Cocoa (for image)
Distress Ink – walnut stain (for card)
Embossing:
Fran-táge Embossing Enamel – Shabby White
Design-Papers:
BasicGrey – Dasher Eggnog
Joy!Crafts – 6×6 Paper Pack Blumen & Schmetterlinge
Copics:
Tilda
Skin: E000 – E00 – E21 – R20
Hair: Y21 – YR23 – E35
Clothes: E35 – E25 – E37 – E15 – E29
Y38
C3 – B00 – E11
Clouds
G00
Beanstalk
YG17 – E37 – E11 – YG06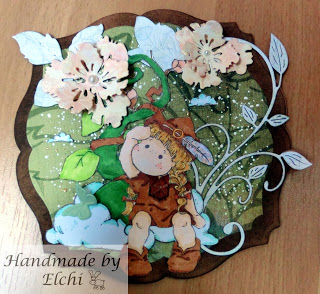 (hier ohne Blitz)
(without flash)
Challenges:
Lovely Hänglar or sweet Magnolia: #85 Anything goes
Hugs Elchi