"Do more of what makes you happy" lautet mein heutiges Motto und so will ich mir trotz Corona-Krise die Laune nicht verderben lassen und nutze die Zeit zum Basteln und lausche dabei einem Hörbuch.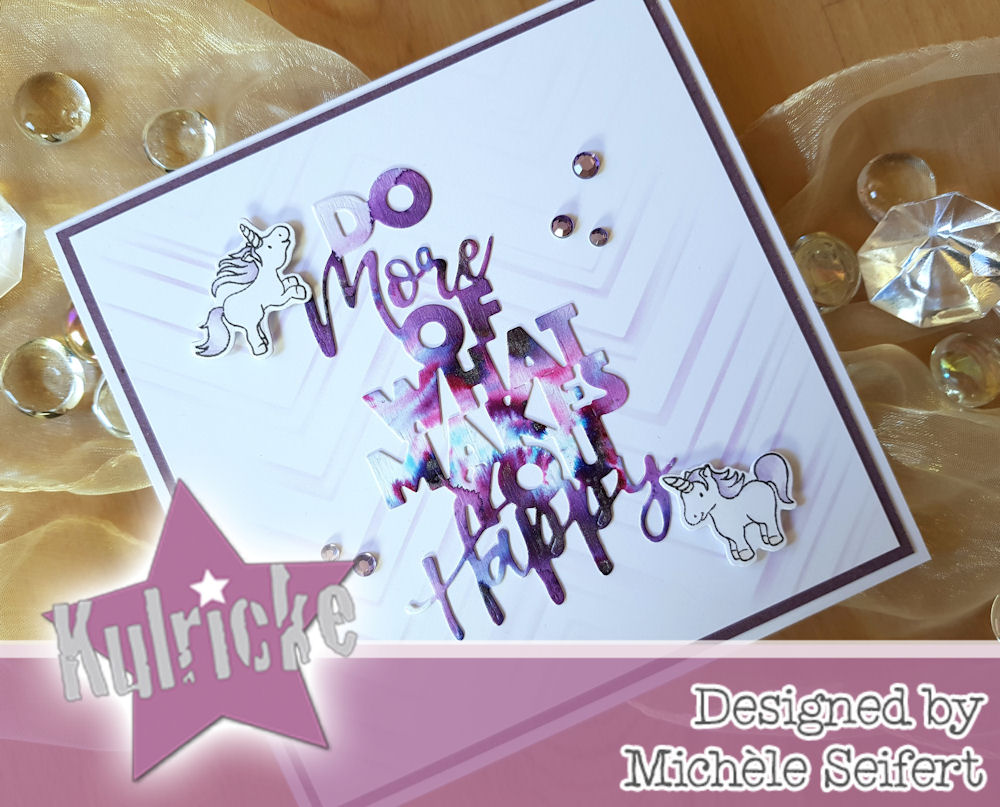 Der grandiose Schriftzug ist von Kulricke und aus einem Hintergrund, welchen ich mit Nuvo Shimmer Powder in Violet Brocade gefärbt habe, ausgestanzt.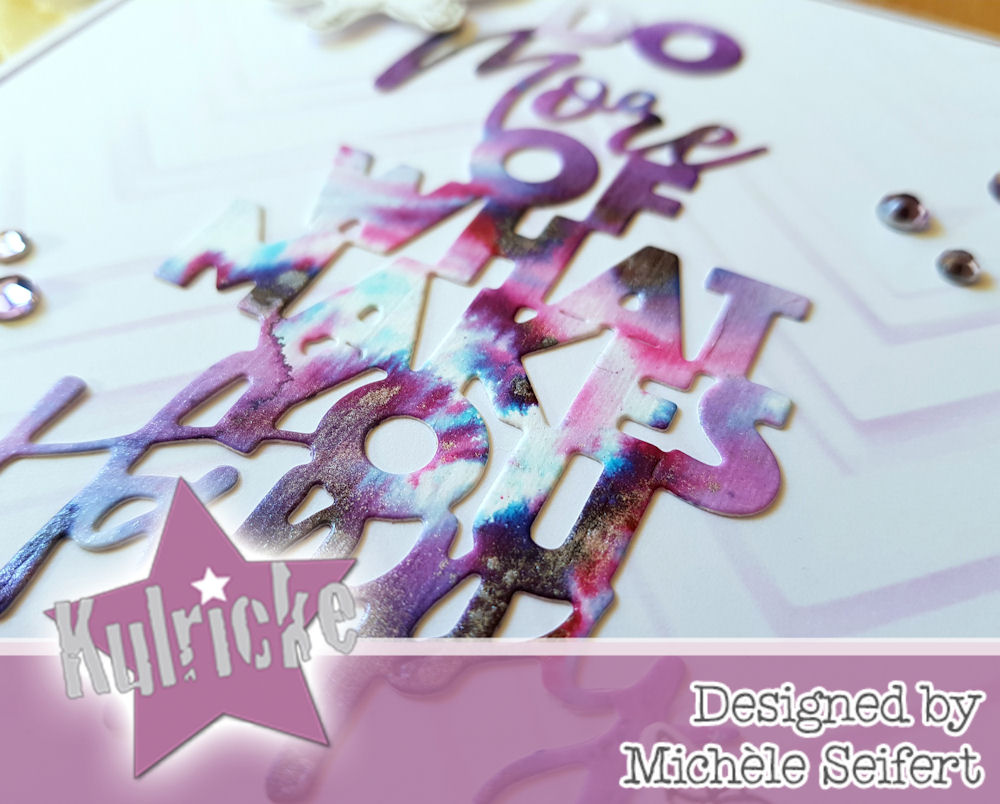 Das Puder hat einen wundervollen Aquarell-Effekt mit einem herrlichen Schimmer.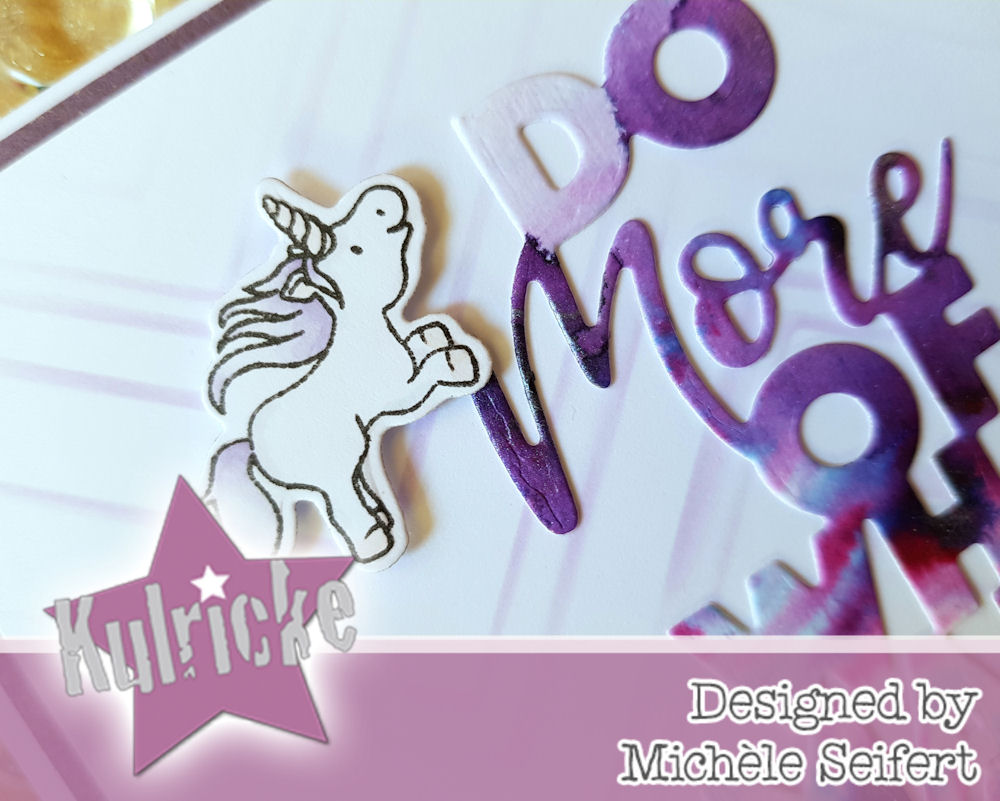 Der zarte Hintergrund ist mit einem Stencil und Memento Stempelkissen gewischt.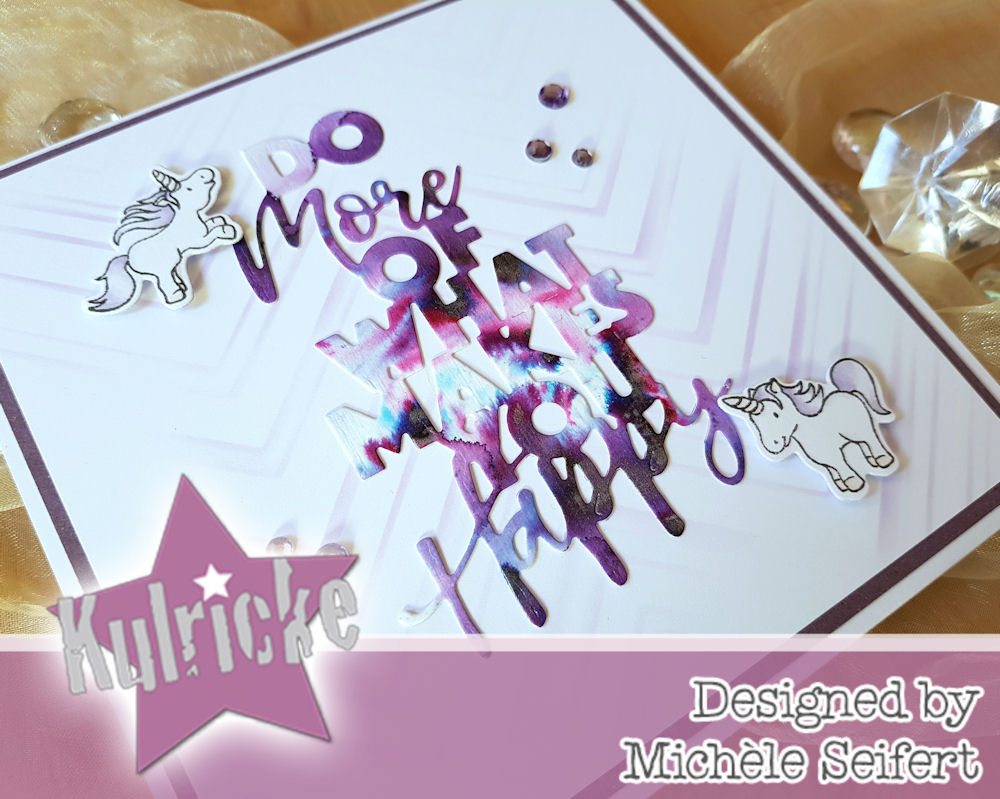 Verwendete Materialien:
Stempel: Kulricke – Einhorn Mini | Stanzen: Kulricke – Einhorn Mini | Kulricke – Do More Of What Makes You Happy | Stencil: Create A Smile – Skinny Chevron | Stempelkissen: My Favorite Things – Hybrid Ink Pad – Extreme Black | Memento – LuLu Lavender | Cardstock: Faltkarten.com – 00 – weiß | Faltkarten.com – 89 – kraft purple | Nuvo: Nuvo Shimmer Powder – Violet Brocade
Einhorn Grüße
eure Elchi
Transparenz:
Dieser Beitrag entstand in Kooperation mit Kulricke. Die Produkte, welche ich im Rahmen meiner Design-Team-Tätigkeit bei Kulricke erworben habe, wurden mir zu Werbezwecken teils durch einen Gutschein, als auch rabattiert zur Verfügung gestellt. Sonstige verwendete Materialien und Produkte stammen aus meinem privaten Besitz und wurden selbst finanziert.
Fotos: © Michèle Seifert | Elchi's World of Books & Crafts
Bastelmaterialien und verwendete Produkte: © bei den jeweiligen Herstellern / Firmen und Designern