Huhu ihr Lieben,
da der Sohn unserer Nachbarn Vater einer kleinen Tochter geworden ist,
wurde ein rosa Babykärtchen für das kleine Mädchen gewünscht!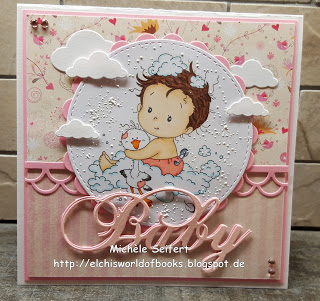 Die drei kleinen Wölkchen und den Baby-Schriftzug habe ich mit 3D-Klebepads
ein wenig erhöht. Zudem habe ich den Schriftzug doppelt gestanzt und ein wenig
leicht versetzt übereinander geklebt…
Die Wölkchen im Stempelmotiv haben auch einen zart glitzernden Effekt erhalten.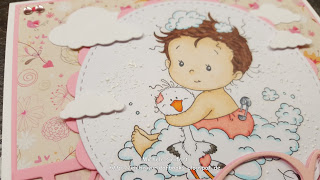 Materialien:
Stempel – Whimsy Stamps – New Baby
Stanzen – Memory Box – Puffy Clouds
Stanzen – Marianne Design – Baby-Schriftzug
Stanzen – Die-Namics – Double Scallop Border

I'd like to enter my card to some challenges:
Cards und More – #180 – Kids / Children
Whimsy Stamps –
#93 – Anything Goes with a twist of Easter
TGIF –
#tgifc99 – Baby! Oh, Baby!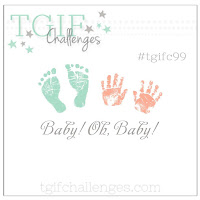 Hugs Elchi
xxx